In 1882 Edison built the world's first hydroelectric power plant for commercial use. Three months later, the island of Senja was next in taking part in this new development. This small society, located in a challenging arctic environment, built Europe's first - and the world's second - hydroelectric power plant. It supplied the nickel ore mines in Hamn with electricity for lighting. This accomplishment established Senja as pioneer in the electrical revolution. The islanders had faith in technology and both the means and mentality to do what was needed to succeed in their endeavours..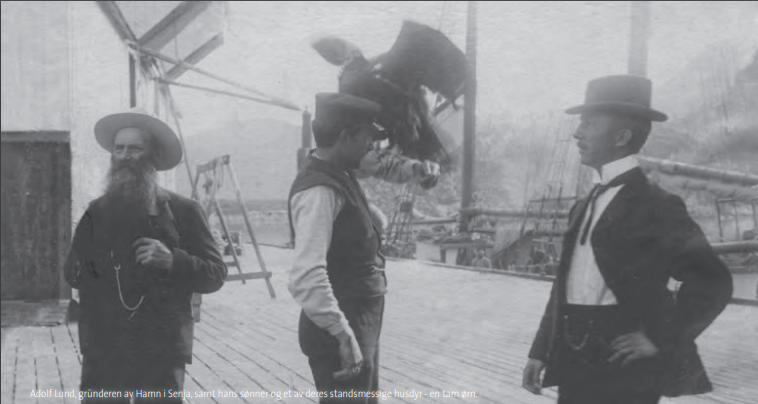 This innovative attitude has not changed. Senja has kept its place at the forefront of technological development through adopting many innovative advances at early stages. The fisheries have always been - and still are - the most important industry. A considerable export of high-quality sea food has made the island internationally renowned. The fisheries are currently looking into possibilities for electrifying the fleet of coastal fishing boats and have recently established fish processing facilities that use advanced robots for most of the mechanical work. But even so, traditions stand firm in this society. The inhabitants of Senja have succeeded in maintaining a sustainable coastal fishing practice based on smaller fishing boats, the 'sjark' in Norwegian language, as well as traditional ways to work and live. A unique combination of opposites, in a world where technological development usually comes together with conventional industrialisation.
The communities at Senja are taking part in the current technological development, to establish truly sustainable ways to work and live in coastal societies. With a solid team of local and national partners, new energy solutions are being drawn up and tested. These solutions are of great relevance to others who wish- or need to be in front of current development. Especially for those who need to think in new ways about how to combine energy security, climate and environment, and technology and societal development. The project will be testing new technologies and power management systems, as well as solutions for local renewable energy production. The industry, the municipality, local inhabitants and school pupils are key participants in this project, and the goal is to let our common efforts result in long term solutions that show the way towards the 'energy system of the future'. One of the important goals of the project is to share the experience gained at Senja in an efficient and structured way. To do this, UiT (the Arctic University of Norway) has launched the research project RENEWwhich will study the advances, challenges and general processes that this initiative will produce.
Source for historical material: «Et felles gode: kraft og samfunn i Troms gjennom hundre år: 1898-1998» by Oddvar Svendsen, published by Troms kraft 1998 (ISBN 8299483506)